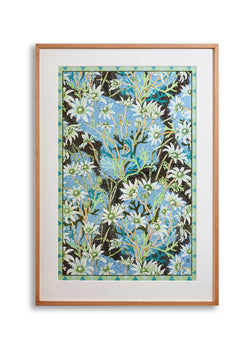 Flannel Flower Limited Edition Fine Art Giclee Print
This beautiful print depicts the Flannel Flower, Actinotus Helianthi a delightful species of flowering plant native to the bushland around Sydney, Australia. Often mistaken as a member of the daisy family (but a member of the carrot clan), its petal rays are covered in downy hair, rather like a flannel in texture. Wildly dancing across the page, this artwork provokes a very whimsical view of the bush.
Specifications
Each print is hand signed and editioned by artist Bruce Slorach
The original painting was first exhibited at

 

Native Deities

 

- Woollahra Gallery at Redleaf May 2023.
Print and Paper Quality
Our Giclee prints are produced using a 12 colour Lucia pigment ink set.
Each print is made using premium fine art Hahnemuhle paper
Frames
Limited Edition Print Framed: $2,800 - Standard box frame as pictured 860 x 1200mm
Shipping
Local pick-up from our Paddington showroom available, or please call/ email to discuss courier options (Please Note: Shipping charges are in addition, a member of our team will be in touch to quote additional shipping costs).
In May 2023, artist Bruce Slorach exhibited Native Deities at Woollahra Gallery at Redleaf. A show that 
Stunningly capturing both artist's profound relationship with Australian native flora and fauna and in turn its colours and gestures mirrored in paint.
at Saint Cloche Gallery in Paddington, Sydney. Since Utopia Goods' inception, Bruce has been at the artistic helm of the company, illustrating every print, each textile featuring the mesmerising whimsy of his distinct hand and often taking months to execute.
Bruce has participated in many exhibitions during his career including London's prestigious V&M Museum, The Victorian Gallery (NGV), The Australian National Gallery and The Powerhouse Museum (Sydney). His artworks are permanent acquisitions at several of these galleries. Bruce's body of work continues to feature regularly in many well-recognised Australian and international magazines and newspapers.