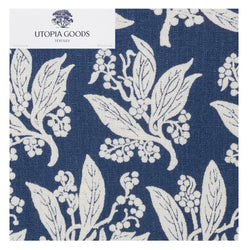 Golden Wattle Navy 20cm Swatch
The gorgeous Golden Wattle Navy design is a beautiful coordinate print designed to stand alone or scheme with various Utopia Goods prints. Its perfect navy monchromatic palette makes it a stunning print from the dining table to living room, from window furnishings to furniture. The modern and artisan print owes its decorative nuances to the tradition of hand printing, history and interior fabrics and it is well places to look fabulous in any interior.
The Golden Wattle tree is a favourite and formal emblem of Australia with its bright yellow puff ball blooms. It is commonly located in southeaster Australia.
Swatches are a designer and decorator's best resource! To help appreciate how fabrics & wallpapers will work in your home, sample swatches are available to order online.
Samples swatches are intended as a colour and texture sample only and may not show the full design. 
Swatch size: 20cm x 20cm 
Each swatch has a card attached stipulating the fabric specifications and pattern repeat. Due to the hand made nature of our linen, and the size of the swatch, the print placement on the swatch you receive will not contain the full pattern repeat.