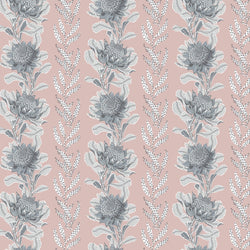 Utopia Goods
Imperial Waratah Blush Wallpaper
The Imperial Waratah print recalls the freshness of springtime and the delicacy of Australia's otherworldly flora. An illustrative design the pattern is as charming as it is versatile embodying not only the dignity of its flower but also the understated elegance of Australia's bush land. Its horizontal repeat gives Imperial Waratah a contemporary twist perfect as a coordinate print along with cushions, drapery or adorning a beautiful upholstery piece.
Wallpaper can make a room and can also be the starring and chic addition to many interior schemes. It can, and will, energise a space. Why paint the wall when you can paper it!

• High quality 350gsm paper
• PVC free, environmentally friendly
• Excellent light resistance
• US Fire Rating certified
| | |
| --- | --- |
| Design: | Imperial Waratah  |
| Colourway: | Blush |
| Repeat: | H 40.6 x W 35 cm / H 16" x 14" |
| Paper width: | Untrimmed 76 cm / 30". Trimmed 70 cm / 27.5" |
| Paper: | 350gsm hot roll-pressed PVC free wallpaper |
| Finish: | Non-woven matt wallpaper suitable for residential & commercial interiors |
Care instructions:
Our wallpaper is is washable with a soft cloth, water and soap only. It's suitable for bathrooms and kitchens, however it must not be scrubbed or rubbed. It can be used in light commercial projects.
All wallpaper is supplied untrimmed and requires a double-cut installation. We suggest installation is done by a professional installer only. Full installation instructions are provided with each order.
*Please note that there is a 2 week lead time on all wallpaper orders.
Designed in Australia. Handmade and printed in India. 
Utopia Goods, as the name suggests, draws inspiration from the Australian bush and its beautiful and unique plant life. The emphasis is on the textile's detail and colour, and an overall superior quality of the fabric production.
Utopia Goods holds the highest esteem for goods that are crafted by hand and all the fabrics are hand screened printed in Jaipur – home to the best hand printing in the world. The linens are woven to the highest specifications and our furnishing fabrics are used in domestic and commercial interior projects worldwide. The philosophy is underpinned by producing a product that is not mass produced and honors the people who make it. All fabrics are made to the highest ethical and working standards.
Based in Sydney, Australia, under the direction of Sophie Tatlow and Bruce Slorach. Utopia Goods endeavors to produce fabric keepsakes or mementos that stand the test of time. The artwork is unmistakably Australian, the final product a re-imagined beauty.